Welkom bij de club
Dit is de officiële website van Duitse herder kringgroep D.W.S. '55 Overdinkel.
Wilt u eens zien hoe het er aan toe gaat op een vereniging voor Duitse herdershonden? Bent u een liefhebber, zoekt u een nieuwe hobby of kunt u gewoon wel wat hulp gebruiken bij de africhting van uw herder? Kom gerust eens langs voor een kennismaking. U bent onder trainingstijden of bij evenementen altijd van harte welkom.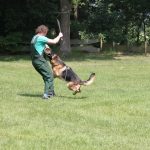 De disciplines bij DWS zijn onder andere: Speuren, appèl, manwerk en diverse kynologische oefeningen. U vindt op onze vereniging diverse kennels en een gezellige mix van fokkers, kynologen, africhters, liefhebbers en toeschouwers.
Trainingstijden:
Dinsdag 19.00 – 21.00 u.
Donderdag 19.00 – 21.00 u.
Zondag 10.00 – 12.00 u.
Mocht u vragen of opmerkingen hebben, vul dan onderstaand contactformulier in. U ontvangt spoedig bericht terug.
U vindt ons (omringd door de bossen) aan de Tiekenveenweg 2a in Overdinkel. Versnaperingen zijn aanwezig.